GoldSilver.com Review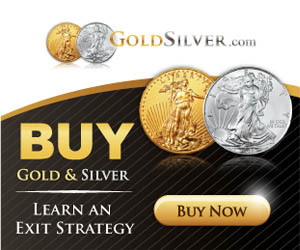 Now that you have decided it is time to buy gold and silver to protect yourself from government malfeasance and a host of other problems on the horizon, you are probably wondering who can I trust to buy gold and silver from?
The internet age doesn't change the fact that disreputable people are out there, it just makes it harder to know for sure who to trust. I mean, you can't just walk in their front door and check them out like I was doing with gun stores yesterday.
Who you buy precious metals or any investment from is an important decision and you want to make sure you are dealing with honest, reputable people.
I know I sure do.
Buy Gold And Silver Locally – Pros and Cons
So you might say that you should buy your gold and silver at a local shop and avoid the internet altogether.
That's one strategy, and I usually like to support local business wherever I live, too.
But let's look at some problems I have encountered trying to buy gold and silver at a local shop and see if you have encountered any of the same things:
There just are not many places to buy gold and silver locally
The prices are outrageous in the local shops
They just do not carry much inventory; even seem to emphasize high margin numismatics over bullion
The proprietor of the local shop seems shady and/or has a bad reputation
The local shop's hours are not at all convenient
The local coin shop is in a seedy area of town
Even when the gold store is in a nice neighborhood I am worried that someone will follow me home thinking I own/am carrying gold, silver, cash
Wow, that's quite a list, isn't it?
So lets talk a little bit about those issues.
The fact that there are NOT a lot of places to buy gold makes me think that gold and silver prices still have a long way to go up in this bull market. The downside is that buying gold and silver is not convenient to do locally.
Sure, most towns have a pawn shop that deals in gold and silver but normally pawn shops are NOT in the best areas of town. Also, selection likely to be very poor at a pawn shop and even at many small coin shops.
Let's face it, operating a brick and mortar business costs money. So does it surprise you that the coin shop wants an $8 per silver Eagle coin premium when you can get them online for $3 to $4 over spot? Or that they want to sell you a more expensive St. Gaudens or Liberty coin?
If you want value for your money buying gold and silver, most experts suggest sticking to popular, well understood and available coins like the Eagle and Buffalo in the United States, and Maple Leafs in Canada.
There are also favorable tax reporting requirement waivers for buying such coins (a blog post on that forthcoming).
And no matter where you local coin shop is located, there is always the risks that criminal element types are hanging out watching who is coming and going to the coin shop then following them to their home in the hopes of making your gold and silver theirs.
Buying Gold And Silver Online – Who Can You Trust?
There are many, many online sellers of gold and silver coins who are trustworthy, reputable and offer good deals.
One such company is GoldSilver.com, founded by Michael Maloney, a very knowledgeable, enjoyable and prolific speaker whose videos you may have seen online.
You can safely and comfortably buy gold and silver from GoldSilver.com and rest assured that you are dealing with a reputable firm, will be treated courteously and professionally and be sold quality, authentic products at reasonable prices.
Take Delivery Of Your Gold And Silver?
There are legitimate reasons to take physical delivery of your gold and silver and other reasons why you may want to store it in a secure vault either in your country of residence or opt for overseas gold storage.
The good news is that with Mike Maloney's GoldSilver.com, you can do either or both!
GoldSilver.com is happy to ship you physical gold and silver or arrange secure storage at one of their several vault locations in the United States and overseas; your choice. Many precious metals owners do all three:
Take physical delivery and store some gold and silver at home
Store some metal in secure vaults in their home country
Store other gold and silver in vaults located offshore
Whatever you choose to do, taking action is going to give you the piece of mind you are looking for.
>>The Hard Assets Alliance is now our #1 choice for Precious Metals<<