Compare Silver Monster Box Prices and Shipping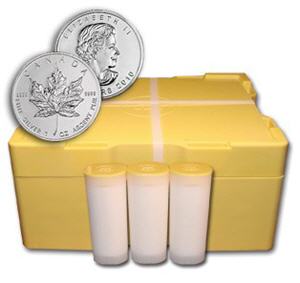 Silver is about a third lower in price than when we did our first Cheapest Monster Box post in February, spot price at $30.82 per ounce! So with Silver spot price around $20.50 we thought an update was in order.
Silver is still bottoming (we hope) and with the transition of the US Mint from 2013 Silver Eagles to 2014 the premiums on Eagles are getting stupid again. So why not go North and buy Canadian Silver Maple Leafs?
Since you get the same amount of Silver either way, the Canadian Maple Leaf is the cheapest monster box of the two, with Silver Eagles costing about $1.45 more per coin.

Therefore, today's quest was for the cheapest, yet reputable company to buy the Silver monster box of Maples from.
The thing with Silver is that it's heavy, so shipping costs need to be considered. We find it amazing that for about the same price, some companies can offer free shipping and others charge an arm and a leg.
Cheapest Monster Box Prices – Silver Maple Leaf
So here is an updated table showing the pricing we found on Monster Boxes of Silver Canadian Leafs with Silver at $20.50 per ounce spot price.
Note that from our last comparison, Liquid Bullion has dropped out completely. They seem to be a different company altogether, no longer low prices – but a new, snazzier website! Currently they don't even have Silver Maple Leafs but the price they list is sky high anyway.
Apmex could be in the running, but the only Silver Maple monster boxes they offer are special years at higher prices; no 2013/earlier generic category.
We are just buying sovereign Silver bullion coins here and do not want to pay for "extra pretty" (some special animal on the design) or "special year".
Spot Price
Silver $20.50
GoldMart
JM Bullion
Texas Precious Metals
BullionDirect
Gainesville Coins
Northwest
Territorial
Mint
Modern Coin Mart
OnlyGold
Price per Coin
$22.59
$22.69
$22.80
$22.67
$22.70
$22.89
$22.90
$23.10
Premium per Coin
$2.09
$2.19
$2.30
$2.17
$2.20
$2.39
$2.40
$2.60
Price per
Monster Box
$11,297.10
$11,345.00
$11,380.00 * After Coupon
$11,337.00
$11,350.00
$11,445.00
$11,448.00 ***
$11,550.00
Freight
Free
Free
Free (Pickup Discount - Shiner, TX)
$55.00+ **
(Texas Zip
Not Far From
Them)
$60+ **
Free
Free
Free
(Pickup Discount
- Phoenix, AZ )
Total Cost
$11,297.10
$11,345.00
$11,380.00 * Includes Coupon
$11,392.00 **
$11,410.00 **
$11,445.00
$11,440.00 ***
$11,550.00
Results
Cheapest Monster Box
(BEWARE - See UPDATE Below)
#1 Cheapest
(See Update 2013-11-25 Below)
#2 Cheapest *
Our #1 Pick
#3 Cheapest
#4 Cheapest
#5 Cheapest
#6 Cheapest
#7 Cheapest
Website
Gold Mart
JM Bullion
Texas Precious Metals
Bullion Direct
Liquid Bullion
Northwest Territorial Mint
Modern Coin Mart
OnlyGold
Notes:
* Price includes our $20 off coupon code for Texas Precious Metals found here
** Shipping estimated, may be more, probably not much less
*** $90 discount for 2-3, more for 4
[WARNING] We have never purchased from GoldMart and today decided not to after doing a search for GoldMart reviews. There is a bothersome YouTube video with some comments about a BBB rating of F, so we checked and confirmed that HERE. Please perform your own due diligence. Instead, we picked up a Canadian Maple Leaf Silver Monster Box from Texas Precious Metals using our coupon code.
All of these prices are for a wire transfer payment. Some will take other forms of payment like a check (with delay) or credit card (at higher prices).
JM Bullion (our review here) consistently seems to offer the CHEAPEST SILVER PRICING – click here
For reasons unknown, JM Bullion asked us not to link to them (huh? why not?) so unless that changes you won't go to their website when clicking. We live the link in case they change their mind (again) at some point in the future.
Video Explanation Of Cheapest Monster Box Table