Jim Rickards Explains About Gold What Ben Bernanke Cannot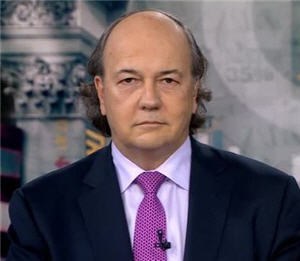 Jim Rickards, author of the best selling book Currency Wars, explains why owning an ETF like GLD is NOT THE SAME AS OWNING GOLD.
Maybe Ben Bernanke doesn't understand Gold or how it's priced (and manipulated) which is what he told Congress the other day as Democrats slobbered over him, but Jim Rickards does.
While you certainly can use a paper Gold vehicle like the ETF GLD for trading Gold and profiting on short, even long term price movements, owning an ETF where the actual metal backing is questionable at best will not protect you in times of crisis.
Even if you decide that an ETF is the way to own Gold, there are better ones to own than GLD (we use SGOL for a portion of our precious metals exposure) based on the reliability of the custodian to actually obtain and hold physical title to the metal and not trust just any counterparty of a CRIMEX (Comex, nod to Peter Grandich) contract.
Zero Hour For The Price Of Gold
Zero Hour is the moment the price of physical gold starts to run away from the 'paper price' you see on CNBC's ticker or Kitco's Gold spot price page. (Note: We purchased Gold once from Kitco years ago, but never will again.)
While I'm not going to repeat the work of Addison Wiggin who interviewed Jim Rickards, I will suggest you read the article here.
After you are done reading, come back and let's talk about REAL GOLD OWNERSHIP. Go ahead, I'll wait.
True Gold Ownership
In our way of thinking there are really 3 ways you can have TRUE GOLD OWNERSHIP:
Buy Gold (bullion sovereign coins or sealed mint bars with assay card) and take delivery. Store the Gold at home in a quality home safe, bury it in the backyard via "midnight gardening", or maybe take a chance and hide it in plain sight in a box in the garage, attic or basement. This is a great way to OWN Gold but not so great way to STORE Gold. Try to submit a claim to the city or (your insurance company won't pay) for your lost Gold and Silver after THIS happens to you.
Buy the same Gold as above but hire a NON-BANK private vault to store it for you. There are really just a very few vaults in the world but more and more companies every day to act as a front-end customer service agent for them. VIAMAT is the most widely known but Brinks and others can be every bit as secure. Very small amounts do not makes sense cost-wise but once you above US$10,000 or so, it's affordable.
Buy ALLOCATED Gold that is legally yours, but in the form of "parts" of good delivery bars through a NON-BANK vendor. The bar that you own a portion of is securely stored and insured. In some cases you can make arrangements for your Gold to be delivered to you for the cost of fabrication, shipping and handling.
If you can think of another option that amounts to TRUE Gold ownership, post it below, maybe I'm having an off day and didn't think of it. Gold has been a store of value since the beginning of money itself and isn't likely to change just because of bunch of overpaid bureaucrats declare it to be a relic or claim they don't understand it.
Options For True Gold Ownership
(This is not an exhaustive list here, but a sampling of what we have covered in depth on BuyAndStoreGold over the last couple of years.)
With regard to choice #1 above, there is always the local coin shop – if you have one, they aren't on every street corner in the U.S. like in other parts of the world – or check out the reviews of places we use like Hard Assets Alliance, Texas Precious Metals and OnlyGold.
For the second option above we have used and reviewed Hard Assets Alliance and Global Gold.
The last option is how you will get the most Gold for your money, both in buying the Gold (or other precious metal) and in storage fees. The biggest names (and I think the oldest too) in the business are BullionVault and GoldMoney; both whom we use and have benefited from them competing with each other by lowering fees and improving services over the last year or so.