Gold Owner "Was Going To" Move Gold To Bank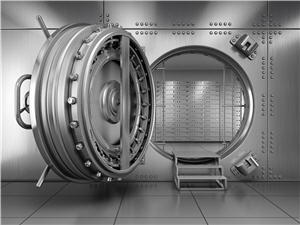 An Australian coin collector was burglarized while out on the town New Year's eve. He was the 4th in a string of such burglaries.
You will have to click the link to see the photo of the cheap home safe that the crooks pried open to make off with his stash of Gold coins valued in the hundreds of thousands of dollars.
I am guessing that the safe was bolted down, otherwise I don't know why they would not just carry it off lock, stock and barrel. Bolting it down would also have made it easier to pry without having to get a good grip on it.
Was Going To Take Coins To The Bank
It seems that the owner must have felt that storing Gold in that quantity at home in a cheap safe was risky because he says he had plans to move it to a bank; presumably a bank safe deposit box. We have our own issues with storing Gold coins in a bank safe deposit box but at least it would be safe from thieves (without a badge) there.
Please do not ever store your precious metals in a bank or in the banking system. Acceptable Gold storage options are all OUTSIDE the banking system for a variety of reasons; bank "holidays" being only one of them.
Storing Gold At Home
When it comes to storing Gold at home in a home safe, you really have two acceptable choices:
Buy a high quality, burglary rated (preferably fire rated too) home safe that is difficult to break into and difficult to carry off to be worked on at the thieves leisure with lots of tools and time.
HIDE the home safe like this safe you can bury so that they never find the Gold or Silver in the first place!
The Biggest Mistake To Avoid
By his own admission, it appears like this one Gold owner who was burglarized made the cardinal error of TALKING about having Gold at home. Always keep you mouth shut; you can be your own worst enemy.
Do not even tell family & friends. Friends come and go, and even close family can turn against you as we personally know!
Further, it appears the home had no alarm system or even a dog to bark.
Best Option To Storing Gold At Home
We personally prefer to pay others to store our Gold for us; if you choose the right vendors the costs are very reasonable.
Hard Assets Alliance lets you own the coins and bars you prefer to own and storing them in this country or offshore – for the same fee.
Should you want to take delivery, that is easily and quickly arranged. With the MetalStream program you can even buy a little Gold or Silver each month and have it converted into bars when there is enough in your account for that.