How To Avoid Getting Scammed On Fake Silver Bars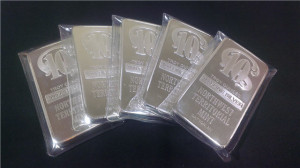 One reason we have shied away from buying Silver Bars too much in the past is because:
We don't want to get scammed
We don't want to risk needing an assay when selling
The key is to buy identifiable product from a reputable vendor, as we discussed in our interview with Tarek Saab of Texas Precious Metals.
Besides that, though, it also helps to know a little about the product.
Michigan Coin Shop NOT Scammed With Bogus Silver Bars
This article talks about how a person tried to sell – knowingly or not – a couple of fake Silver bars along with some genuine Silver dollars. The employee of the store knew immediately that the Silver bars were fake because they were obviously too big.
Get it? He knew how big they were supposed to be. Familiarity with the product. Someone with this kind of knowledge and a few tools can know what he or she is buying. If you don't have that knowledge and tools then you darn sure better know WHO you are buying from and TRUST them.
Another clue, besides being grossly oversized – and underweight by means of a scale – was that the Engelhard 10 ounce Silver ingot appeared to have every digit of the serial number individually stamped. Genuine bars have the entire number stamped at once, together.
Bottom Line On Buying Silver Bars
There have been scams on eBay, probably Craigslist too.
If you are going to buy Silver bars, either have the tools and knowledge to be sure you are getting what you are paying for or buy from a reputable company that you have reason to trust.
Also, be sure you know what shipping and insurance costs will be when you buy Silver bars (or coins). Silver is heavy and shipping can be expensive.
..
Other Articles That May Interest You