And The Best Place To Buy Gold Bullion Would Be?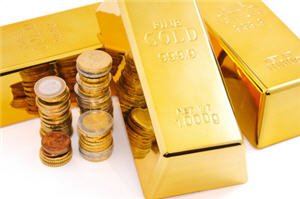 Today the price of Gold (and Silver) is getting clobbered, down US$40 (Silver over $1) under $1290, so I am contemplating buying Gold bullion online. Maybe some Silver.
While I would dearly love to head over to Texas Precious Metals with our BuyAndStoreGold.com coupon code, I have a move in my future and I get very nervous moving precious metals by vehicle.
What if the vehicle breaks down? What if my vehicle is stolen at the gas pump while I'm inside using the facilities? Don't think this has not crossed my mind.
Government Shutdown Cited For Gold Price Drop
The news just makes me angry, I mean, really, they call this journalism? Nearly every US Government action is a screw-up or screw-over of hard working American people. Quit using the FAA and other services that probably should be privatized as a pawn in political games for power and money to the privileged.
We all know it's smoke & mirrors anyway, they will keep printing and spending – they have no choice. This is long term positive to the price of Gold. Buy Gold now at under US$1300/oz or wait until it is much higher. Your choice.
Where To Buy Gold Bullion Online?
If you have a local, reputable coin dealer with good inventory at reasonable prices then I encourage you to support him/her/them. I have never had that benefit.
But that is assuming you want to store it yourself. While I understand that desire, I am painfully aware of what it takes to be able to store Gold in your home safely and securely – and be able to sleep with both eyes closed at night with someone you love in your arms instead of your home defense weapon of choice.
So to us buying Gold online can mean either buying precious metals for delivery OR buying precious metals to be stored with the vendor – whether onshore (US vaults) or offshore (London, Zurich, Singapore, Melbourne, Hong Kong, etc).
That is one reason we keep coming back to Hard Assets Alliance. With HAA we can buy the metal of our choice at very competitive prices (maybe not the ABSOLUTE LOWEST, but low for sure) and just have them store it for us at – again – reasonable prices. Whenever we want delivery we can arrange it through their website ourselves or call the toll free number. The metal will be on its way to us in just a couple of days.
Which Type Of Gold Bullion Do I Buy Online?
Which type of Gold bullion to buy has a lot to do with whether or not you intend to take delivery (my opinion). If you are going to have this metal in your possession and expect to be able to barter, then get readily recognizable sovereign coins for your locale (US: Eagles, Buffalo – Canada: Maple Leafs – Australia: Kangaroos – etc).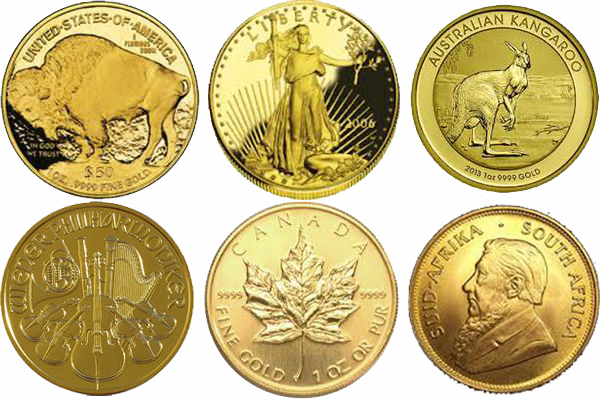 Otherwise, as Ed D'Agostino discussed in our interview recently, buying as large of Gold bullion bars makes sense to get the most Gold for the money.
How To Take Advantage Of Low Gold Prices
One thing you have to do if you want to buy Gold bullion online at discount prices on days when the price of Gold is getting clobbered is be prepared to pay for it in accordance with the terms of the vendor.
This means having funds in a bank or other account to be wired if necessary, or, like with Hard Assets Alliance, BullionVault and GoldMoney, having your account already funded ready for the opportunity.
That's probably the only GOOD thing about the ZIRP (zero interest rate policy) of the Fed that causes banks to not pay anything on your idle cash (or money market funds, if you remember what those were).
Having money funded in an online Gold account which never (that I know of) pays interest on your cash balance is painful when other cash equivalent accounts pay 3, 4 even 6% interest (a decade ago…).
But that is not the case now and probably will not be anytime soon. So fund that account (we love that HAA added ACH deposit ability)
What If I Never Expect To Take Delivery?
If you want to buy Gold bullion online and get the cheapest prices yet never really expect to take deliver of the Gold then we come back to the basic online Gold accounts at preferred vendors like BullionVault and GoldMoney.
Both of these companies will allow you to buy Gold bullion online at some of the best prices in the world, store that metal securely in the location of your choice at very low cost, and profit from the inevitable rise (our opinion) in the price of Gold & Silver over time as desperate governments continue to debase their fiat currencies in competition with each other to see who can destroy their currency the fastest while still keeping the elected officials responsible in their cushy positions.
BullionVault is more friendly to small investors and Trust accounts – learn more here.
GoldMoney offers Platinum and Palladium in addition to Gold & Silver – learn more here.
Hard Assets Alliance gives many of our US based readers a higher confidence level – learn more here.