Cheapest Sunshine Mint Silver Bars We Could Find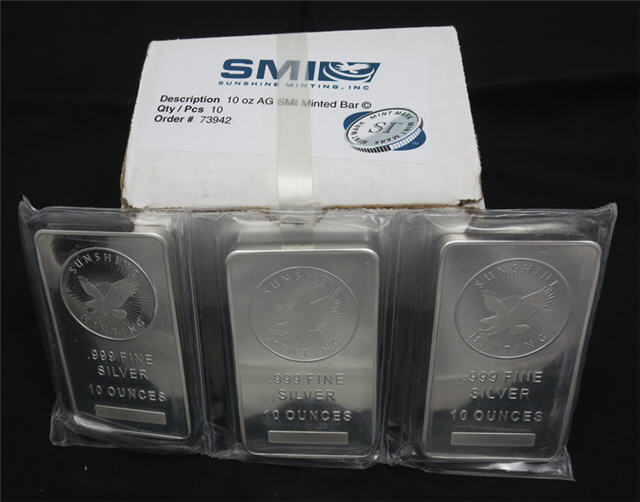 The cheapest Sunshine Mint Silver bars we could find a couple of weeks ago was at JM Bullion, a bullion dealer we had been following but had yet to buy from.
So taking our own advice on how NOT to get scammed buying Gold & Silver we placed a small order with them on the same day we placed an order from APMEX.
APMEX did deliver sooner, but there were some mitigating circumstances we reported on here, including the JM Bullion coupon for our next purchase (which will now certainly take place soon, before Silver launches…).
JM Bullion Earning Our Trust
One satisfactory small order does not trust make, but it's an important first step when it comes to buying Silver online. And with the delay we had an opportunity to see if they would do what they said, both via email and the customer service rep we spoke to on the phone.
When it comes to doing business, it's not a matter of a delay or a mistake that makes or breaks trust, it's how you HANDLE the situation with your customers. So far, JM Bullion gets a good score on that count.
They did what they said they would and, more than that, offered to put a few bucks in our pocket for the inconvenience. Sure beats an insincere "Oh, sorry 'bout that" which has become so commonplace.
So What's The Next Step?
Well, coupon or not, we are not going to buy from JM Bullion just because they passed this test. On our next order we will again do what we always do:
Determine the need
Find the right product based on the need
Shop the best price for that product
Determine if the bullion dealer with the best price is worthy of buying from
Make the final decision
Place the order
Monitor how the order is handled
Rep0rt anything worth reporting here on the blog
The Cheapest Silver Today May Not Be Tomorrow
Where to find the cheapest Silver is always a moving target. JM Bullion certainly works very well for small orders and less well-heeled investors.
There are other online bullion dealers we love working with, and the cheapest dealer today may not be the cheapest tomorrow. Or, the cheapest vendor may not have any stock, and we do hate to have our money delivered for TOO LONG before the metals are delivered. Even from a company you trust that makes us a little nervous.
That's one reason we still like Texas Precious Metals so much, especially for large orders; they only sell what they have in stock. With a wire transfer, we'll have our Gold and/or Silver in 3 days tops.
Have You Ever Bought From JM Bullion?
If you have any experience buying from JM Bullion we would love to hear about it, you can post a comment here or on the JM Bullion Review page here.
Real people reporting real results is how investors can help avoid losing money in something like a Tulving scam.
Making Money Buying Silver
Some may ask why we are so intent on buying the cheapest Silver bars or coins and thus always seeking new online bullion vendors.
The answer is simple. You make money when you BUY, not when you sell.
Ever overpay for a house? Notice how it's bad enough to overcome the sales commission (like a buy/sell spread in Silver or Gold) even under the best of circumstances? Well, it's even harder if you overpay.
So buy Silver at the lowest price possible and you have a better chance at selling at the maximum profit. Remember, when you go to sell your Silver things may just be a little chaotic and you might be inclined to take the easiest sale or the SAFEST sale and may not have the luxury of time to be able to optimize your selling price.
Do not just take our word for it, check out JM Bullion personally and see what you think. Then report back here please.