JM Bullion Silver Monster Box Cheaper With No Expiration!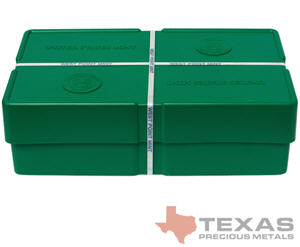 Long time readers know how much we love TexMetals.com and we even had our own Texas Precious Metals Coupon Code for 1/3 of last year. Now, through March 14th (act fast) you can save $150 off of a U.S. Eagle Silver Monster Box at Texas Precious Metals.
Wow! That's MASSIVE!
But is that the best deal on a monster box of Silver Eagles?
JM Bullion has Silver Monster Boxes of 2014 American Eagles for $41 less, and that's their daily price – no expiration. Both offer FREE SHIPPING!
Now that puts us in a quandary. We love working with Texas Precious Metals because they only sell what they have in stock and with a wire transfer you will get free overnight shipping. We actually have not bought a monster box from JM Bullion yet, or even used a wire transfer with them to know how fast they will ship under those circumstances. We have been sending paper checks so far.
Silver Eagles Most Sought After
For U.S. based silver buyers, the U.S. American Eagle is the most sought after Silver coin and will get you the best buy-back price…but, you pay more premium up front. Personally, we go for the most Silver for the money as long as we stay with recognizable coins and bars.
Yet, when a vendor has current year product in stock and offers a coupon code I'm all over it checking it out; Silver Eagles can always be leveraged to those really stuck on buying them only.
Each individual needs to ascertain for him or herself what mix of coins vs. bullion rounds or bars is right for them. Yes, you get more Silver for the money buying 10 oz Sunshine Mint Bars but maybe a potential buyer down the road might hesitate to buy a mint bar instead of a sovereign coin.
Personally, I think there will be plenty of willing buyers for both, but you never know; so stock up on whatever you can.
So What Is The Texas Precious Metals Coupon Code for $150 Off?
I'm sorry, but we at least have to make you scroll down the page a little bit. If you use this code could you at least share our site on a social network for us? (thanks)
The TexMetals C0upon Code is "MARCH150" – no quotes. Simply, huh? Tell them their friends at BuyAndStoreGold sent you!
If, on the other hand, you want to try to save enough for a nice lunch or modest dinner out, take a look at JM Bullion, especially if it's past March 14th by the time you read this and the TexMetals coupon code is expired. One thing for sure, though, you will never regret doing business with Texas Precious Metals.