Cheapest Monster Box of Silver Maple Leafs
One of the reasons we really like Texas Precious Metals (read full review here) is there policy of only selling what they have in stock and then shipping via UPS overnight service. On Tuesday we did an update of the Cheapest Monster Box (Silver Maple Leafs) and place our order later in the day.
Our wire transfer for the funds was received by them early on Wednesday morning and we received an email from them stating that the order would ship within 3 business days.
Thursday our Monster Box shipped – announced by email with tracking number, and today, Friday, about 72 hours from the time we placed the order our familiar UPS driver pulled up to the door with our Silver.
No uncertainty about when we needed to be available to receive and sign for the delivery, no need to drive to the post office and stand in line and then have everyone watch as we go out the door (unarmed – no firearms allowed in a Postal Facility [only wacko postal employees are allowed guns there]) with a box that is either "machine parts" or Silver. The postal employee would know because of the insurance.
Here it is, shipped with a copy of the invoice tucked in the top (removed for photo):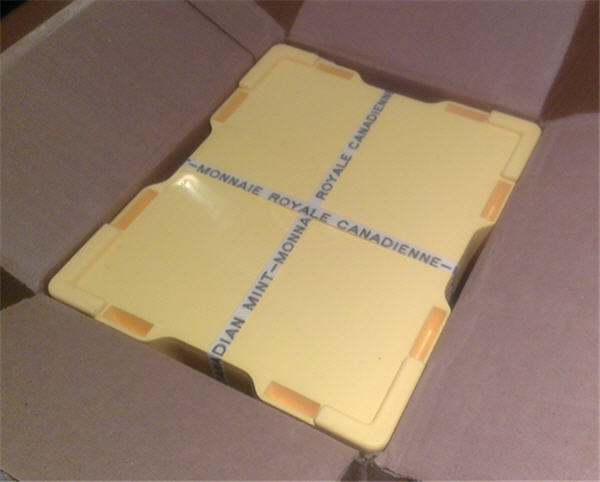 Be Sure And Use Our TexMetals Coupon Code!
We saved $20 on our order by using our exclusive BuyAndStoreGold.com TexMetals coupon code, valid until 12/31/2013 which you can find here.